The Best Version of You – Millennials at Work
Dear Customer,
In light of the current COVID-19 we will not be accepting any new loan applications. The well-being of our customers is of absolute priority and therefore we ask you to contact us via chat, email or phone if you have an existing account and require any help.
Many customers will be faced with income interruptions as a result of this crisis and so therefore we are recommending that you refer here for useful advice: https://www.moneyadviceservice.org.uk/en/articles/coronavirus-what-it-means-for-you
How do the behaviours of millennials differ in the workplace compared to others and what are their future goals? Find out the results of our latest Ferratum survey.
You may be familiar with the typical stereotype of a millennial, you know, the one that paints them as being work-shy, self-entitled and overly concerned with political correctness. But how accurate is that stereotype?
Well, we decided to find out by surveying a group of millennials aged 18-34 and an older group of people aged 35-54 (Generation-X) on their attitudes towards work. The results may surprise you.
So what exactly is a millennial?
This one is up for debate, but most people agree that a millennial is someone that reached adulthood early in the 21st century. For the purposes of our survey, we've focussed on millennials aged between 18 and 34 in 2018.
How do millennials feel about work?
Surprisingly, the "work-shy millennials" are actually twice as likely to have a second job versus their Generation-X counterparts. They are also far more ambitious, with 64% focused on getting to the very top of their game, versus 40% of the older generation who seem quite content with things the way they are.
This determination to succeed is probably the reason why 34% of the millennials we surveyed claim to have a poor work/life balance, with as many as 47% feeling that they are being underpaid for their efforts to reach the sky. Interestingly, this may be the reason why 3 in 5 millennials have such a strong desire to start their own business.
How do millennials feel about bettering themselves?
Millennials appear to be very focused on their education and development, particularly in the workplace, with 69% wishing that they had more access to training at work.
This frustration is probably the reason why as many as 71% of millennials would consider a career switch just to gain access to better opportunities to develop themselves. Whereas only half of Generation-X would be willing to give up their careers and retrain in another industry.
When faced with barriers to their development at work, many millennials will choose instead to take up a course alongside their main job. In fact, 55% of the millennials we spoke to are planning to start a new course in the next 12 months – the majority of which being courses in business and management.
Of course, funding an education isn't cheap, so it comes as no surprise to learn that 40% of the millennials we surveyed would be willing to take out a form of borrowing, such as a same day loan to cover the costs of their own education.
How do millennials feel about becoming self-made?
I think we can all agree that millennials are driven to succeed in the workplace, but how well does that passion translate into their own endeavours?
Well, out of the millennials we surveyed, 62% have a goal of setting up their own business in the near future. They also appear to be willing to put the work into making it happen, with twice as many millennials being happy to give up their weekends for a second job versus their Generation-X cousins.
Unsurprisingly, one of the most significant barriers for Generation-X to set up their own business is the fear of failure, with 30% unwilling to take the risk. This seems to be a trend among our older participants, with the general consensus being that stability and routine is preferable to the potential rewards that can be gained from taking a big leap.
So in conclusion
Millennials clearly don't deserve the stereotype they are often given. However, it's also easy to see how their tenacity and ambitions in the workplace could ruffle the feathers of their older peers, particularly those that are content with things the way they are.
That said, experts are predicting that millennials will make up 35% of the world's workforce by 2020. So employers would be wise to pay more attention to the expectations of their younger employers. Otherwise, they may well find themselves having to compete when they leave to start their own businesses!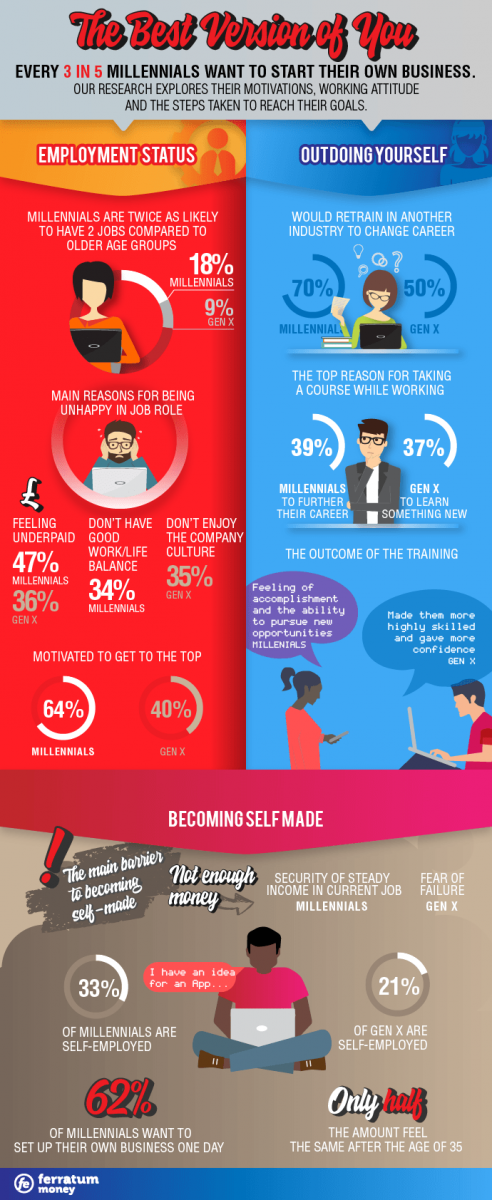 Did you like this article? Share it using the buttons below, or click the link to read another blog...
Warning: Late repayment can cause you serious money problems. For help, go to moneyadviceservice.org.uk. Representative example: APR 1270% if borrowing £400 for 4 months. Interest rate: 292% p.a. (fixed). Total amount repayable: £665.48 by four instalments of £166.37. Maximum representative APR: 1604% if full loan repaid after 7 days.