Dating Etiquette and Expectations
Dear Customer,
In light of the current COVID-19 we will not be accepting any new loan applications. The well-being of our customers is of absolute priority and therefore we ask you to contact us via chat, email or phone if you have an existing account and require any help.
Many customers will be faced with income interruptions as a result of this crisis and so therefore we are recommending that you refer here for useful advice: https://www.moneyadviceservice.org.uk/en/articles/coronavirus-what-it-means-for-you
Ferratum break down the trends of modern dating. How does this measure up with your experiences?
Dating should be a wonderful experience. That thrill of meeting someone new along with primal feelings of attraction is supposed to create a spark that leads to a connection. In reality though, dating can be a hotbed of anxiety, leaving both people worrying about everything from how well they're dressed to whether or not they've shaved their bits properly!
So, as part of our love and money dating tips series, we decided to take a closer look at what matters the most to men and women when it comes to dating. The results may surprise you.
What's the best way to meet someone new?
Well, it seems that men are the bigger fans of online dating, with 50% of men embracing the dating app revolution, whereas only 40% of women are as willing to swipe their way to love. Don't let that mislead you into thinking that women favour the offline approach though, because 55% of the women we surveyed admitted to some very cheeky social media stalking before a first meeting!
Who makes the most effort with their personal grooming?
Most of us would probably prefer a date that doesn't resemble a Yeti, but it's actually the men that put the most effort in, with 61% of gents dedicating time to shaving before a date, versus just 44% of women. This, of course, is excellent news if you're a woman that favours a man with a smooth face, but not so great if you're a man with high hopes of getting your date out of her socks in a hurry!
Another surprising result is that 17% of men spend time whitening their teeth before a date, but only 10% of women are concerned about having a dazzling smile. Fake tan then comes in as the least of everyone's concerns, with less than 10% of either sex willing to risk the Tango orange look.
Who spends the most on dressing to impress?
The ladies come out on top here, with 32% of women spending up to £49 on their appearance and 14% shelling out an eye-watering £100. The gents, however, spend far less, with 33% of men typically forking out no more than £20! Of course, no one's expecting the fellas to take out a short-term loan to get suited and booted, but a little more effort probably wouldn't do them any harm.
It's also worth noting that 44% of men will only put effort into their appearance when they are single vs in a relationship. Whereas 36% of women will put in just as much effort regardless of whether they are single or not. This brings a whole new meaning to the phrase "he scrubs up well"!
Who foots the bill after the date?
40% of men and women agree that a meal out is an ideal first date, but once that food has been scoffed, who is expected to pay the bill? Well, fortunately, men redeem themselves here, with only 8% of men expecting their date to pay – which is good news for the 25% of women that wouldn't have it any other way! (Perhaps men should be considering that same day loan after all!).
Things change when it comes to the second date though, with 41% of men agreeing that the bill should be split with their date. Whether that's going to be a popular decision will depend on their dates personal opinions on chivalry.
So, what can men and women take away from this?
It's clear that both men and women make an effort with their appearance on a first date, but men could probably push the boat out a little further. Especially when it comes to maintaining that initial effort in the long run.
With a quarter of women expecting the man to pay on a first date, we can safely assume that chivalry still has a place. That said, modern day feminism is driving significant changes in peoples attitudes, so men probably shouldn't be too surprised if women do offer to pay or split the bill.
And one final note for men, be mindful of what you share on social media, your future partner may be watching you closely!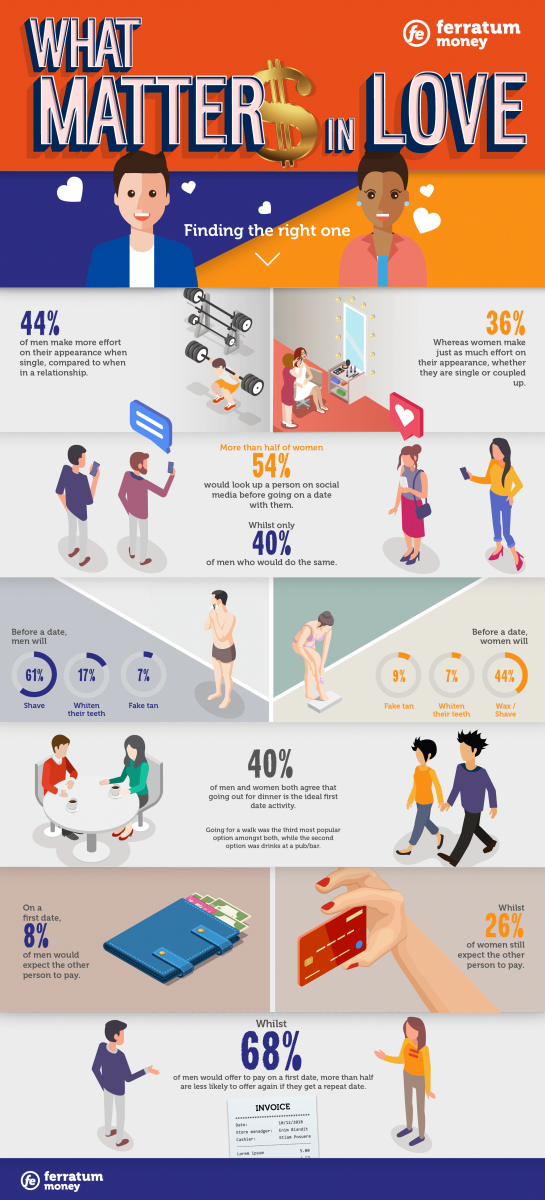 Did you like this article? Share it using the buttons below, or click the link to read another blog...
Warning: Late repayment can cause you serious money problems. For help, go to moneyadviceservice.org.uk. Representative example: APR 1270% if borrowing £400 for 4 months. Interest rate: 292% p.a. (fixed). Total amount repayable: £665.48 by four instalments of £166.37. Maximum representative APR: 1604% if full loan repaid after 7 days.