Why Choose a Short Term Loan?
Dear Customer,
In light of the current COVID-19 we will not be accepting any new loan applications. The well-being of our customers is of absolute priority and therefore we ask you to contact us via chat, email or phone if you have an existing account and require any help.
Many customers will be faced with income interruptions as a result of this crisis and so therefore we are recommending that you refer here for useful advice: https://www.moneyadviceservice.org.uk/en/articles/coronavirus-what-it-means-for-you
Short Term Loans
Why choose a short-term loan? Everything you need to know from Ferratum
If you need a financial boost, then a short-term loan could be just the thing. If you're looking for the best short-term loans, you've come to the right place.
There are many reasons our customers find themselves needing a short-term loan. You could be feeling like you're on top of your finances when suddenly, life throws an emergency your way. Maybe the car has broken down and you need to get to work. Or perhaps you have urgent home repairs, like the boiler or plumbing. Whatever it is, sometimes, you simply don't have the money when you need it most. It happens to the best of us.
A few weeks can feel like a lifetime when you need to get your car back on the road or if you need costly home repairs. This is when a fast and simple same day loans can provide you the relief you need.
During an emergency, we understand the last thing you need is to be worrying about finances, and that's where Ferratum's loans can help you quickly and effortlessly if and when the need arises.
How To Apply for a Short Term Loan
At Ferratum, we know that time is money. We also know you don't need added complications, like time-consuming application processes or excessive form filling in. With Ferratum, there's no paperwork, no financial statement requirements, and no waiting in line.
Applications are done via our easy-to-use website. Simply select which of our same day loans best suits you and apply online. Applications take just 5 minutes to complete and using our sophisticated and advanced technology, it takes just seconds to assess an application. An on-screen decision will immediately appear and you will then have the money in your account within 2 hours. It's that simple.
How Can I Find the Best Short-Term Loans?
When looking for a short-term loan provider, always make sure that they are authorised and registered with the Financial Conduct Authority. This means that you have the assurance that your chosen lender adheres to all the regulations surrounding short-term loans. As well as this, check if your chosen lender is a member with an industry-standard association. Ferratum are a member of the Consumer Finance Association, who support their members with industry-leading expertise.
It's important to remember our short-term loans are only to be used for short-term financial needs, and should not be used as a long-term borrowing solution, or if you are in financial difficulty. If you're worried about your finances, you can seek free and impartial advice from a debt charity like the Money Advice Service.
You can also check out your chosen lender's online reviews, to see how others rate their services.
Why choose Ferratum?
Ferratum is a direct lender, which means when you apply with Ferratum, the whole quick and easy application process is with us. As a Customer Service Champion runner-up winner in the Consumer Credit Awards 2017 and a direct lender, you can be confident you've chosen one of the best short-term loans on the market.
Ferratum is an international provider of mobile consumer loans. As a pioneer in the field of financial technology and mobile lending, we have expanded our operations to 24 countries since 2005.
At Ferratum, our mission is simple – to provide the best, fastest, and most user-friendly lending and banking services available with 24/7 personal customer service.
We strive to say yes when other banks say no
When it comes to credit checks, a lot of people tend to think their credit file is worse than it actually is and are pleasantly surprised when they secure a short-term loan through Ferratum effortlessly.
We're not looking for old mistakes on long-term finance arrangements customers had years ago. We run our checks based on similar lines of credit to our online short-term loans.
Customers pass through several virtual 'checkpoints' which validate their information. During this process, we will verify their ID, check their credit rating, and their ability to repay the loan on the due date.
We understand that when you're already stressed about finding funds for an emergency or other urgent financial matter, the last thing you need is added complications.
Why choose Ferratum?
At Ferratum, we believe in offering a fast, flexible financial solution to our customers. There are no hidden fees, and everything you need to know about how much a Ferratym loan will cost you is clear before you agree to accept your loan.
We offer flexibility to suit your needs, with instalment loan terms from 2-4 months and amounts from £300-£1000. Repayments are normally equally distributed throughout the term of the loan, so you always know what the repayment amount is in advance and can plan your budget accordingly. Check out what our customers say about our same day loans.
Complete Transparency
When you apply to Ferratum for a short-term loan, you can be sure you're in good hands. Because we're a direct lender, we handle the entire application process.
We believe in complete transparency. There are no hidden costs and all fees are clear to see before you submit your application.
Ready to apply? Click the button below to start your application.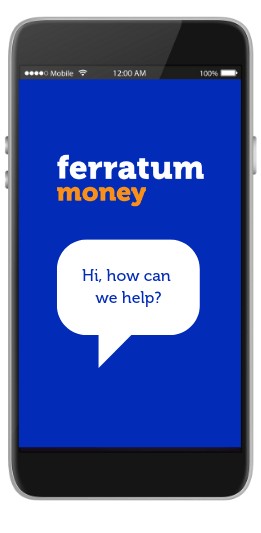 Got a question?
Got a question? Our customer care team are here to help whenever you need them. Get in touch if you need help with your application.
Don't forget to check out our Frequently Asked Questions to find out everything you need to know about a Ferratum loan.
Ferratum is authorised and regulated by the Financial Conduct Authority and is a member of the Consumer Finance Association.