Dear Customer,
In light of the current COVID-19 we will not be accepting any new loan applications. The well-being of our customers is of absolute priority and therefore we ask you to contact us via chat, email or phone if you have an existing account and require any help.
Many customers will be faced with income interruptions as a result of this crisis and so therefore we are recommending that you refer here for useful advice: https://www.moneyadviceservice.org.uk/en/articles/coronavirus-what-it-means-for-you
Quick Loans
Thinking about getting a quick loan from Ferratum?
At Ferratum, we know that when you need money to help in your time of need, you need an instant loan with no messing around. That's why our quick loans are the perfect solution.
A quick loan is a short-term finance solution that can be applied for and approved in a short space of time. That's why this kind of loan is perfect for unexpected emergencies.
Our application will take just 5 minutes, and your loan decision will be available instantly. Once approved, you'll only have to wait a maximum of 2 hours for your loan. Now that's what we call a fast loan!
Sometimes, an emergency crops up that can have dire consequences for you and your family. If your car broke down tomorrow, how would it affect you? Could you get to work? Take the kids to school? When a financial disaster strikes, life doesn't hit pause. When you still have weeks to wait til payday, you know that the best decision for your family is to prioritise fixing the car as soon as possible.
In many cases, our instant loans are the quickest and most easily accessible way to secure funds. That's why we, at Ferratum, have designed easy, flexible, fast loans which enable you to access funds quickly.
With a flexible Ferratum loan, you can choose the terms to suit you. Use our calculator to see how much you could borrow and for long. With Ferratum, what you see is what you get.

Fast loans at the click of your fingers
Ferratum is an international provider of mobile consumer loans. As a pioneer in the field of financial technology and mobile lending, we have expanded our operations to 24 countries since 2005.
There are endless reasons why customers apply for our same day loans. Our customer service team have helped thousands of people just like you with our instant loans. Best yet, our loans are also same day loans, which means you get your money when you need it. Applications are done via our easy-to-use website. Simply select which of our same day loans best suits you and receive a decision within minutes.
"Such a generous company with very fast payment. Thank you!"
"Fabulous service! Thank you so much!"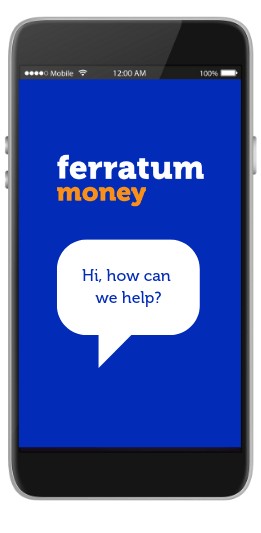 Got a question?
The Ferratum customer care team are here to help with all your enquiries. Drop them a line today.
Our Frequently Asked Questions also have everything you need to know about your Ferratum loan.
Ferratum is authorised and regulated by the Financial Conduct Authority and is a member of the Consumer Finance Association.