Dear Customer,
In light of the current COVID-19 we will not be accepting any new loan applications. The well-being of our customers is of absolute priority and therefore we ask you to contact us via chat, email or phone if you have an existing account and require any help.
Many customers will be faced with income interruptions as a result of this crisis and so therefore we are recommending that you refer here for useful advice: https://www.moneyadviceservice.org.uk/en/articles/coronavirus-what-it-means-for-you
Same Day Loans
Everything you need to know about choosing a same day loan
A same day loan is a short-term financial solution for individuals who are looking to borrow a small amount of money to resolve their immediate cash flow concerns.
With a Ferratum short-term loan you can choose a loan to suit your needs. Our flexible loans allow you to choose from £300 to £1000 and spread the repayments over 2, 3 or 4 months.
You can use our loan calculator to see what loan amount and terms might suit you. Try it now!
How much will a same day loan cost?
When you take a same day loan from Ferratum, you will be charged a daily rate of interest. The rate is 0.8% per day. The overall cost of your loan will depend on the number of days between borrowing and paying back the money. There aren't any setup costs when applying for a loan with Ferratum. You may have been introduced to us via a broker, they shouldn't charge you for the introduction either as our policy is to offer same day loans with no upfront fees or membership fees.The best thing about a flexible Ferratum loan, is that you can can choose to repay part or all of your loan early with no early repayment fees or other conditions. This means that you pay interest only on what you need to borrow, and when you repay early, you'll pay less interest. And with our new online repayments feature it's never been easier to manage your loan.
Deciding whether to apply for a same day loan
As a responsible lender, we always strive to treat our customers fairly. And that means we encourage our customers to carefully consider whether a same day loan is the right choice for them. You should consider whether the repayments are affordable to you and how a short-term loan might impact your monthly budget.
Our short-term loans are only to be used for short-term financial needs, and should not be used as a long-term borrowing solution, or if you are in financial difficulty. If you're worried about your finances, you can seek free and impartial advice from a debt charity like the Money Advice Service.
Because Ferratum is authorised and regulated by the Financial Conduct Authority and is a member of the Consumer Finance Association, you can be confident that you are choosing a responsible lender for you loan.
Why choose Ferratum?
At Ferratum, we believe in offering a fast, flexible financial solution to our customers. There are no hidden fees, and everything you need to know about how much a Ferratym loan will cost you is clear before you agree to accept your loan.
We offer flexibility to suit your needs, with amounts from £300 - £1000 and instalments over 2, 3 or 4 months. Repayments are normally equally distributed throughout the term of the loan, so you always know what the repayment amount is in advance and can plan your budget accordingly. Check out what our customers say about our same day loans.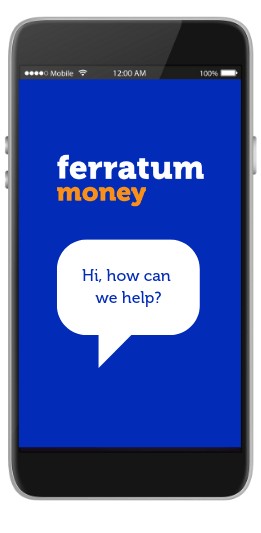 Got a question?
Got a question? Our customer care team are here to help whenever you need them. Get in touch if you need help with your application.
Don't forget to check out our Frequently Asked Questions to find out everything you need to know about a Ferratum loan.
Ferratum is authorised and regulated by the Financial Conduct Authority and is a member of the Consumer Finance Association.