How to Use a Loan Calculator
Dear Customer,
In light of the current COVID-19 we will not be accepting any new loan applications. The well-being of our customers is of absolute priority and therefore we ask you to contact us via chat, email or phone if you have an existing account and require any help.
Many customers will be faced with income interruptions as a result of this crisis and so therefore we are recommending that you refer here for useful advice: https://www.moneyadviceservice.org.uk/en/articles/coronavirus-what-it-means-for-you
How to use our loan calculator
Everything you need to know about our loan calculator
Whether it´s to open the door to a golden opportunity or to help with everyday life events like car repairs or bills, at Ferratum, we believe in providing people with the tools to help them say yes to life more often.
Our quick and simple application process takes only a few minutes to complete. And it all starts with our loan calculator.
Use the slider to see what a short-term loan from Ferratum would cost you to repay. Use the slider on the calculator to determine the amount, and the drop down option to select how long you'd like to repay. Our calculator will tell you exactly how much interest you'll be charged on your loan, with no hidden fees or extras.
Check out the total loan amount in the right hand column. It's easy!

The best thing about a flexible Ferratum loan, is that you can choose the terms to suit you. You're in control of how much you would like to borrow and how long you need to repay. And you can now use our new online repayments feature to repay part or all of your loan early, meaning you pay less interest. You're in control.
The Ferratum loan calculator put you in the driving seat. Use the slider to change the number of days and the amount of money until you find the loan calculation amount that suits you best.
And once you've decided you can start your easy online application and have a decision shortly after. Once approved the money will be in your bank within 2 hours!

Why choose Ferratum?
At Ferratum, we believe in providing a transparent and simple service our customers can trust. There are no hidden fees. With our loans, what you see is what you get.
We offer flexibility to suit your needs. Our Plusloans are a flexible instalment product, with amounts from £300 - £1000 and repayment periods of either 2, 3 or 4 months. Repayments are normally equally distributed throughout the term of the loan, so you always know what the repayment amount is in advance and can plan your budget accordingly.
"Very fast and reliable. Thank you."
"Very easy to deal with, no hassle, highly recommend."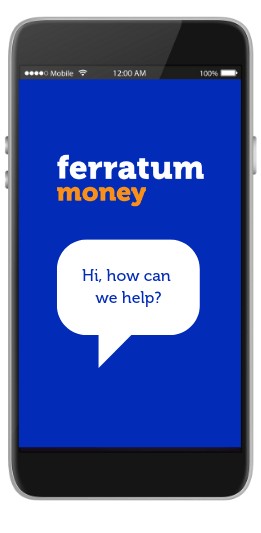 Got a question?
Our award-winning customer care team are on hand to help you with your application.
And check out our Frequently Asked Questions to find out everything you need to know about a Ferratum loan.
Ferratum is authorised and regulated by the Financial Conduct Authority and is a member of the Consumer Finance Association.