Does Ferratum Offer Payday Loans With No Credit Check?
Dear Customer,
In light of the current COVID-19 we will not be accepting any new loan applications. The well-being of our customers is of absolute priority and therefore we ask you to contact us via chat, email or phone if you have an existing account and require any help.
Many customers will be faced with income interruptions as a result of this crisis and so therefore we are recommending that you refer here for useful advice: https://www.moneyadviceservice.org.uk/en/articles/coronavirus-what-it-means-for-you
Does Ferratum Offer Payday Loans With No Credit Check?
Bad credit? It may not be as bad as you think. Find out more with Ferratum.
If you search for payday loans or short term loans with no credit check, you will find many brokers and dealers who will offer this to you. It might not be quite as you imagined, though. Find out more with Ferratum.
Many non-direct lenders may offer loans with no credit check, and while they technically don't credit check you themselves, they may pass your details onto other brokers and lenders who will. If you check the terms and conditions before going ahead, you will find that really, you won't be applying for a payday loan with no credit check.
Most companies you wish to lend from would want to perform a credit check before sending any funds, they do this to make sure you can afford to repay the loan and that they aren't putting you into any financial difficulty.
As responsible lenders, Ferratum will perform a credit check to assess affordability before granting a loan. Offering short-term loans with no credit check is not allowed or advisable. Ferratum are authorised and regulated by the Financial Conduct Authority, and that means that we will perform the required affordability and credit checks to check the suitability of the loan you are applying for, in line with their guidance.
You should also consider the possibility that your credit report might not be quite as bad as you think it is. If your credit history has had its ups and downs over the years, this isn't always a true projection of how you will handle short-term credit.
Can I See My Credit Report?
You can check your credit report easily for free with many online services such as Credit Karma (formally Noddle). Remember that it's not just your 'credit score' that you want to look at, all credit companies will interest your history differently, so the 'score' can vary massively from place to place. Instead, look at your credit report or history. This will show you all the credit agreements you already have, such as your mobile phone contract, car insurance and sometimes utilities. You should also be able to see your payment history, and if there are any late or defaulted payments that might look bad from a potential creditors point of view.
Can I Still Get Credit With A Bad Credit Score?
Remember, it's not necessarily the score, but the actual details of your financial relationships that creditors are interested in. Having a bad credit history doesn't automatically mean that you won't be able to get any form of credit, but it does mean you might not be able to take advantage of the most competitive rates. This is why bad credit loans are sometimes more expensive, as this covers the extra 'risk' to the lender.
You may also find that other factors increase your ability to get credit, such as your overall income and expenditure, which shows if the loan is affordable to you.
How Do I Apply For One Of Ferratum's Short-Term Loans?
When our customers come to us for their loan needs, we like to keep it simple for them. Ferratum is a direct lender, and this means the process is much simpler, as your whole application is done directly with us. Complete the online form in 5 minutes and we'll give you a decision straight away.
We offer instalment loans from £300 and £1000 with repayment terms of 2,3 or 4 months. The amount you are offered is based on your credit and affordability checks and can go up and down. If your credit report shows other items of similar credit due to be paid around the same time, we won't be able to overcommit you as it is not fair practice. This is why we cannot and have not ever offered a payday loan with no credit check.
Even though our payday loan applications are subject to very sophisticated identity validations and credit checks, it only takes about two minutes to complete one. You'll have an instant decision on screen at the end and, if approved, we send your money within a couple of hours.
If your application isn't successful, that doesn't mean you can't try again. Check your credit report and address areas that could improve by making all repayments on time and not applying for too much short-term credit. Don't make lots of applications as this won't help. We advise waiting about 30 days before submitting a new application.
Check out our loan calculator below to see what kind of loan term would suit you.
Why choose Ferratum?
At Ferratum, we believe in providing a fast and flexible alternative to payday loans. You set the terms of your loan to suit your needs.
We offer flexible instalment loans, with amounts from £300 - £1000 and repayment periods of either 2, 3 or 4 months. Repayments are normally equally distributed throughout the term of the loan, so you always know what the repayment amount is in advance and can plan your budget accordingly.
And with our online repayment function, it's easier than ever to manage your loan.
Check out our customer reviews to see why others have chosen Ferratum for their loan.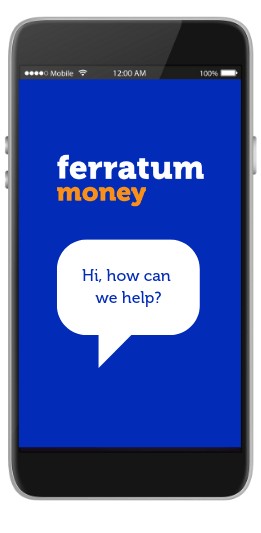 Got a question?
It's easy to get in touch with our customer care team. Contact us if you have any questions about your loan or application.
Check out the Frequently Asked Questions page for more information about Ferratum loans.
Ferratum is authorised and regulated by the Financial Conduct Authority and is a member of the Consumer Finance Association.